Facilities Overview
Whether training, boarding, or coming for a swim, our canine guests can look forward to:
100% glass boarding suites with adjacent prep kitchens (we call it room service)
Thousands of square feet of indoor and outdoor play space
An enclosed outdoor playspace with canine-grade grass
A two-story waterfall in a temperate saltwater pool
An antimicrobial air filtration system
Low-impact cushioned floors for delicate paws
24/7 Staff
Pick Up & Drop Off Services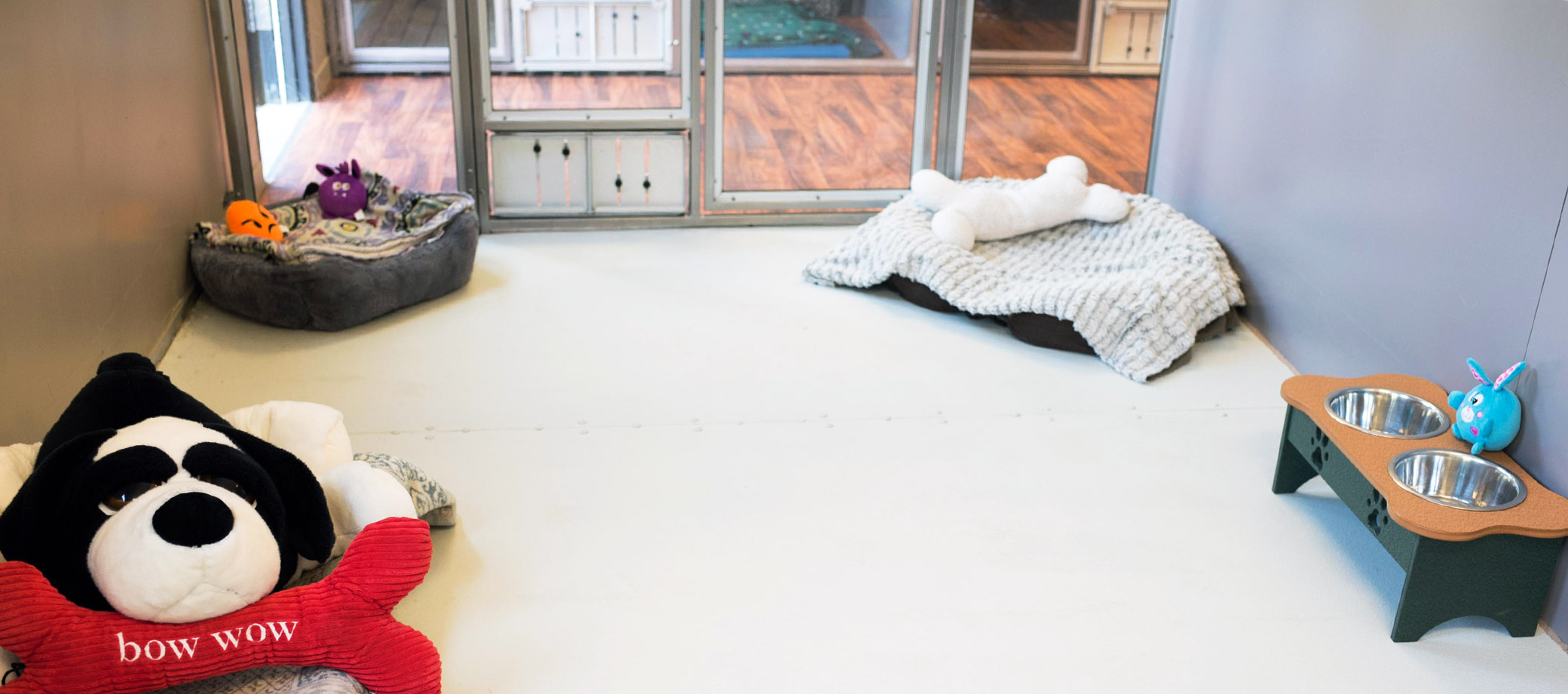 Boarding
You deserve a getaway. So does your dog.
Meet our most advanced glass suites ever, complete with memory foam beds and a 24/7 staff for walking, petting, loving, and nightly tuck-ins. Expect happy dog pictures in your email. Available long and short term.
Plush, hypoallergenic memory foam bedding
Glass-enclosed suites in various sizes
Multiple walks throughout the day
24-hour attention from playful, loving caretakers
Nightly tuck-in service
Optional photo service
Ample indoor and outdoor play space
Custom meals & snacks from our on site dietitian
Offering boarding school, day school, and group training classes
Training
Training you can trust.
Powered by the philosophy of world-renowned behaviorist Shelly Leibowitz, our new location brings his unique dog training approach to the shore. It's called control through kindness, and every trainer on our staff lives by it, because a good dog only comes from good treatment.
Large, spacious training rooms
Private consultations with your trainer
Private lessons for you and your family
Puppy training for young students
Obedience training on & off leash (heel, sit, stay, come, down)
Special problem training (housebreaking, chewing, jumping, mouthing, pulling, bolting, fear aggression, separation anxiety)
Custom training for unique needs (e.g. service dogs, canine good citizen dog (CGCD))
Professional needs training (Police K-9s, American Kennel Association etc.)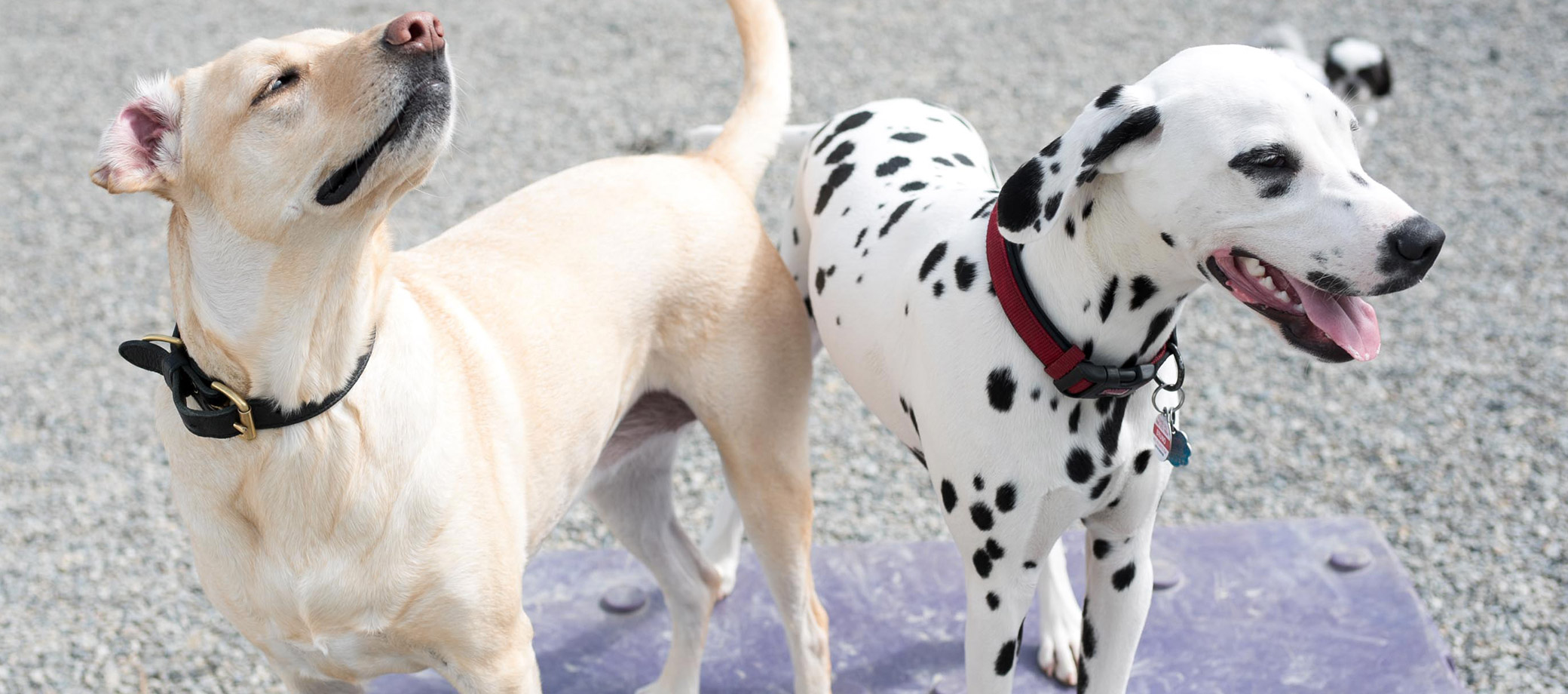 Daycare
We take playtime seriously.
Perfect for the commuter, we offer daily daycare for your best friends to make some of their own in our giant playrooms, attended to by petcare experts all day long. All dogs are evaluated before getting to enter group play.
Thousands of square feet of indoor & outdoor play areas
Paw-friendly cushioned floors for safe playtime
Highly-trained, watchful supervisors all day
Customizable packages including specialty toys, private play sessions, and scenic nature walks
Daycare pet specialist will spend minimum of ½ day evaluations for your dog to determine the best daycare program
Grooming
Your pup has never looked so good.
With an immaculate glass grooming center replete with state of the art grooming equipment, we promise your dog will leave looking, smelling, and feeling great. Don't blame us if you can't stop posting them to your Instagram.
Highly-trained pet groomers
Top of the line hypo-allergenic products
Soothing bath treatments
The fundamentals: Haircuts, Teeth-cleaning, Anal gland release, Facial, Deskunk, Flea/Tick
Swimming
Do the doggy paddle.
Sign your pup up for swimming lessons at our massive saltwater pool and a two-story waterfall. Swimming helps maintain a healthy weight and provides hip- and joint-friendly exercise on a regular basis. We're happy to teach the doggy paddle to first-timers (though deep down, they already know it).
Heated salt-water pool
Swimming lessons for first-timers
Personal care by an in-pool attendant
Post-pool shower and towel drying
Aquatic therapy for special needs dogs
Lots of leaping and fetching
Paw-friendly access ramps
Custom doggy life jackets
Excellent for dogs with: Chronic pain, Recovering from surgery, Hip dysplasia
Lobby open 7 days a week from 7am to 7pm for visits. However, we are fully-staffed 24/7, all year long. Operational hours on major holidays may be different.
Come stop by for a personal tour by our concierge team!
23 Burnt Tavern Road
Millstone, NJ 08510
Directions